This page holds all the pieces of information needed by market managers participating in this project.
|
---
Buyer Communication Sample Documents
---
Sample Email to Prospective Buyers
---
Print-friendly buyer survey
This is exactly the same as what appears on your "Buyer Survey" tab on your market's Spreadsheet, but in a format you can download, adapt, and print in a word processing program.
Adapt this document
---
Back to top
---
COVID-19
---
Food Safety for Delivery and Pickup (Minnesota Department of Health)
Example Letter to Farmers Market Customers
---
FSMA Produce Safety Rule
---
FDA Produce Safety Rule Summary
covers the seven (7) main points of the FSMA Produce Safety Rule. Use this document to understand what FSMA requires for sorting, packing, and holding of raw produce.
Back to top
---
Good Agricultural Practices (GAPs)
---
---
The above website includes
templates for on-farm food safety plan development
---
USDA GAPs checklist: Is your farm ready for a GAPs audit?
---
Back to top
---
---
Handwashing Station
---
Back to top
---
---
Legality of Local Food
---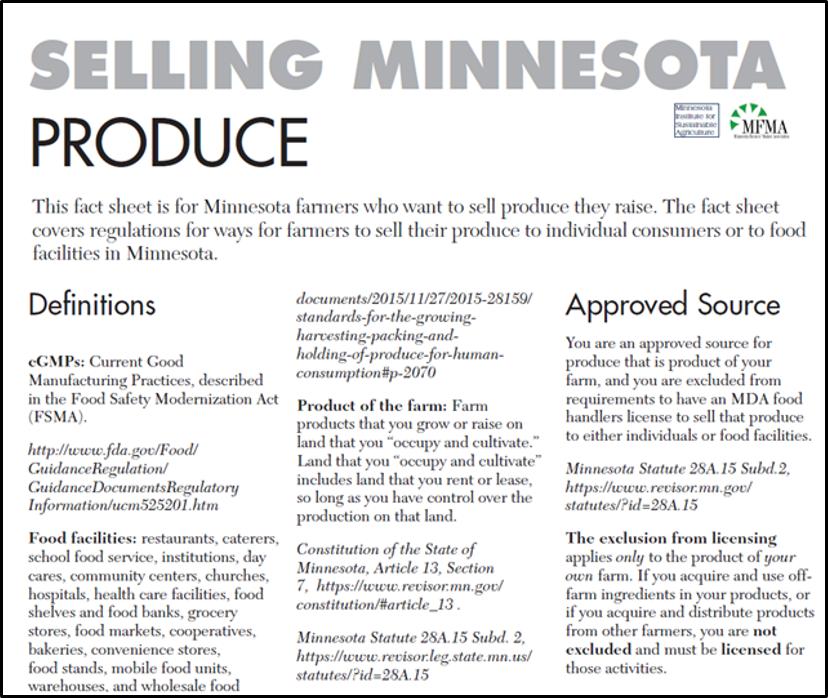 Selling Minnesota Produce
is the document you should use to understand the broader legality of produce sales by farmers or others.
---
Selling or Serving Locally Grown Produce in Food Facilities
is a document intended for food facilities that buy produce. Copy and share this fact sheet as needed to assure buyers that locally grown produce is an "approved source" for them to purchase.
---
Back to top
---
---
Licensing Information
---
.
---
---
Selling Minnesota: Aggregation of Farmers' Produce
is the document you should use to understand the legality of this farmers' market-based model for wholesale produce sales. Share it with buyers and inspectors as needed.
---
Visit this MDA web page
to open a checklist of things to consider when preparing to apply for a Wholesale Food Handler license.
---
Sample Protocol Documents for Markets
(Based on documents from the Wabasha Farmers' Market)
---
---
Back to top
---
Market Share Boxes
---
Newsletter Examples: 1 | 2 | 3 | 4
---
Back to top
---
Pricing References
---
Minneapolis Public Schools Request for Proposals — Appendix 4: Reference Prices
This document includes example pricing information from several sources. It is intended for your reference, but you are not obligated to use any of the pricing shown here.
Back to top
---
---
Product Standards
---
Here are some examples of standards for appearance and packing of produce. These will help you see what some organizations want, but these standards are not required for this aggregation project. You should have the conversation with your buyers about how they want produce to look when they get it.
---
Minneapolis Public Schools "cheat sheet" on product appearance and packing
---
The Good Acre's Wholesale Standards Booklet
---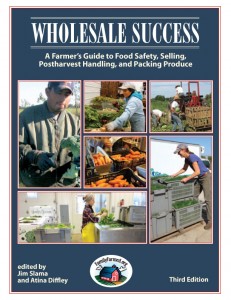 Wholesale Success
is a publication that includes the USDA pack standards and grades for a wide variety of produce. Market managers will receive a copy of Wholesale Success.
---
The pack standards shown in Wholesale Success are also publicly available in:
USDA Handbook #66: The Commercial Storage of Fruits, Vegetables, and Florist and Nursery Stocks
---
Back to top
---
Promotional Materials
---
Back to top
---
Specialty Crops, Non-Specialty Crops
---
---
What is a Specialty Crop?
Use this online document from the USDA Agricultural Marketing Service to understand what qualifies as a "specialty crop" for purposes of this grant-funded project.
Back to top
---
---
Traceability
---
Back to top
---
---
Vendor Communication Sample Document
Informational Letter for Vendors
Back to top
---
---
Water Testing
---
---

Back to top
---
Brought to you by:
Thanks to our Grant Funding Sources: